Using Rug Pads to Prevent Hardwood Floor Damage
You Have Enough to Worry About,
Don't Worry About your New Puppy Ruining Your Hardwoods, Too.
We're here to save your rugs from pet accidents (or let's face it, the rest of the family can be just as messy!)
We will cut and install pet urine barrier rug pads for your rugs for added protection and peace of mind.
Ask us about bundling a cleaning with custom rug pads!
Click to call us at 404-435-2126
or click the button below to contact us about this special offer.
"We have a client that we clean her rugs often due to recurring animal urine. We placed an Eco-Premium pad under the two rugs we most often clean. On our last visit, the two rugs were urine saturated but nothing went through the pad which was not the case with the previous padding. And the Eco-Premium is cleanable!! Great product!!"
Bob Carr, Verified Buyer
Rug pads provide multiple benefits in the care of your rug as well as your home. A rug pad acts as a buffer between the rug and the floor, helping prevent unnecessary wear. It prevents dirt from getting trapped underneath the rug. Rug pads also facilitate airflow under rugs, which prevents the growth of mold, mildew, and odor-causing bacteria.

Why Use Rug Pads?
There are several reasons why the experts at Oriental rug cleaning recommend using rug pads. A high-quality rug pad will:
Prevent your rug from scratching your hardwood floor. It will protect the floor's finish, and prolong its life
Minimize wear and tear on your rug, thereby, preventing the need for frequent rug repairs
Provide extra cushioning for comfort
Reduce sound transmission
We have many different styles of rug pads to suit your needs. The featured product at right is the Eco by Design rug pad featuring the new pet urine barrier, green label plus certification, and radiant heat feature. To see more of our rug pads, click here.
Introducing the New Pet Urine Barrier
With the extra home time we've all had over the past few months, many families have made the wonderful decision to adopt a dog! Unfortunately, we've seen more frequent repeat customers due to your furry friend's accidents on your fine rugs.
Most rug pads allow liquids to pass right through them, actually holding the spill against the wood. This can be incredibly damaging for the wood and the finish, sometimes resulting in thousands of dollars worth of damage.
Our New Pet Urine Barrier Rug Pads are like Insurance for Your Floor.
We're pleased to offer our customers a solution to save their floors! Specialty rug pads lock-in spills and keep them off your floors!
Completely Washable
Minimize wear and tear on your rug, thereby, preventing the need for frequent rug repairs
Non-allergenic, No Odors or Off-Gassing
Made of 100% Recyclable Materials
Lifetime Guarantee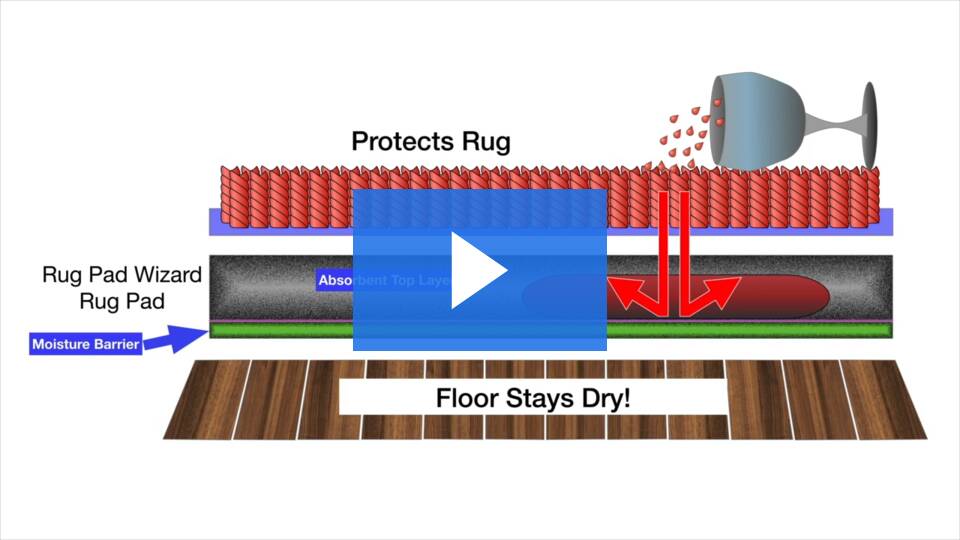 Click to call us at 404-435-2126
or click the button below to contact us about this special offer.
Choosing a Rug Pad for Your Hardwood Floor
What is the best rug pad for hardwood floors? This is one of the most common questions homeowners ask when installing hardwood flooring.
Hardwood floors are a big investment. A cheap area rug for your hardwood floor can do more harm than good. It can discolor the floor with dyes, wear down finishes, or scratch the floor. To avoid these issues, first invest in a high-quality area rug. Look for a rug made from felt and natural rubber. Some high-quality rugs use a combination of rubber and felt. The needle-punched surface of felt grips the bottom of rugs to anchor it. The rubber prevents sliding.
The best area rugs are hypoallergenic with no VOCs or harmful chemicals. This combination provides a non-skid base and cushioning. Next, when buying an area rug pad, make sure its dimensions are slightly smaller than the area rug. This will ensure the rug pad does not extend beyond the boundaries of your area rug. Its edges will taper to the floor, preventing premature wear and trip hazards.
What Happens If You Choose a Cheap Area Rug?
A cheap, substandard area rug can cause serious damage to your floor. Substandard rugs are coated with toxic chemicals such as PVCs or phthalates. These chemicals can wear down the finish of your hardwood floor. Most substandard area rugs are thin and do not provide much cushioning or shock absorption.
A Common Mistake Many Homeowners Make
Many homeowners use padding designed for wall-to-wall carpet as a rug pad for their area rugs. Avoid this mistake. Look for padding specifically designed for area rugs. A wall-to-wall carpet padding is designed specifically for wall-to-wall applications and can damage your floor if used improperly.
Trust the Pros
With decades of experience, the professionals at S&S Rug Cleaners, Inc. can answer any questions about rug pads, what makes a quality rug, or how to care for them.
S&S Rug Cleaners, Inc. offers top-notch rug cleaning services. Whether you own a nylon rug or a wool rug, we can restore it to its former glory. Our time-tested practices and modern equipment deep clean rugs for longer life and a healthier environment for you. To talk to one of our experts, call 404-355-2126.
Frequently Asked Questions
Do You Really Need a Rug Pad?
A rug pad acts as a buffer between the rug and the floor. Your rug pad provides a foundation for your rug. It reduces wear and prevents holes around the edges. Every rug needs a rug pad. Here are some benefits of using a rug pad:
It increases the lifespan of your floor. It prevents dye from the rug from seeping into the floor. A rug pad also prevents dents from heavy furniture legs
Non-slip rug pads anchor rugs firmly to the floor, preventing falls due to slips and trips
A rug pad slows down the wear and tear of the rug
It allows air to freely circulate under rugs
Do You Need a Rug Pad for Outdoor Rugs?
Even though outdoor rugs are made to handle harsher conditions, it is still a good idea to protect it with a rug pad. Here are some reasons why you need a rug pad for your outdoor rug:
Lack of air movement below your carpet can promote bacteria and mold growth. A rug pad will prevent these issues by allowing air to circulate below your rug
Rug pads make rugs feel more comfortable
It will prevent dirt from getting trapped between the rug and the patio
A quality rug pad will hold the rug in its position, helping prevent slips, trips, and falls
It will extend the lifespan of your floor and rug
How Thick Should a Rug Pad Be?
A rug pad should be ¼ -inch thick. A thicker rug pad will add too much height which can cause a range of issues. A ¼-inch rug pad will add the right amount of padding and make a thin rug feel a little thicker.
Which Side is Up On a Rug Pad?
This is one of the most common questions people ask while installing a rug pad. If you are not sure which side of the rug pad goes up, refer to the instructions on the product. The directions on the pad should indicate which side goes up.
Usually, the smoother side is meant to be used up against the back of the rug. It provides a stiffer foundation for the back, preventing scratching or damage to the floor.
Should the Rug Pad Be the Same Size as the Rug?
Choose a rug pad that is slightly smaller than your rug. The edges of a slightly smaller rug pad will taper to the floor. This prevents trip hazards and premature wear and curls at the edges of the rug as people walk on it.
Rug pads are supposed to remain hidden. A smaller rug pad will protect your rug and floors without getting noticed. Your rug pad should be at least one inch less than your rug size on all sides. If, for instance, the size of your rug is 8' X 10', the rug pad size should be approximately 7'10" X 9'10".